Mobile Application Development Agency, India
We build beautiful products. Let's develop yours.
Agile Team of Design & Development Experts who help you to build innovative products & superior customer experience for Startups & Modern Enterprises.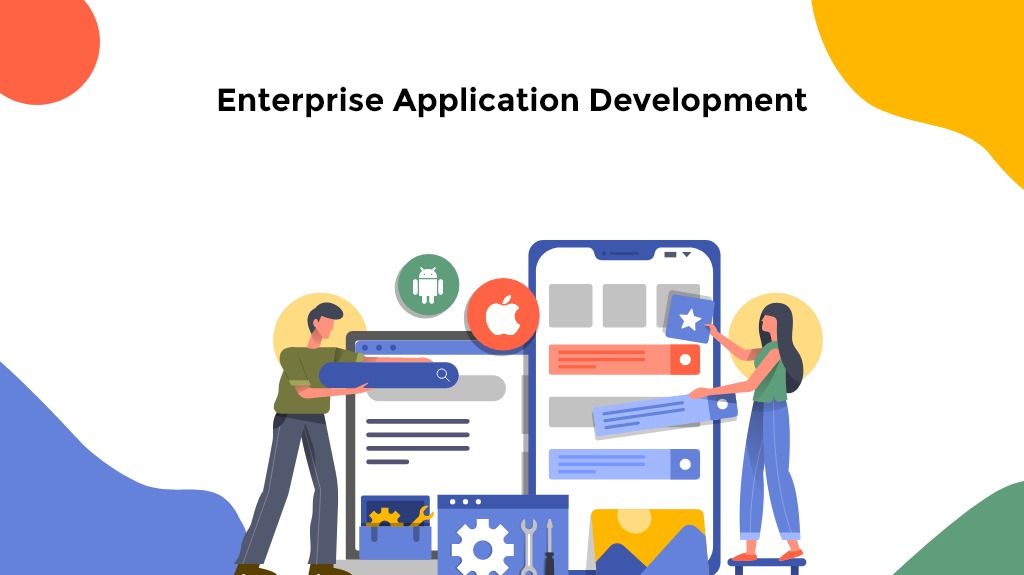 6+ YEARS EXPERIENCE
We follow "3D" process to work on the project. The 3 D's are how your project takes shape literally just from an idea.
Will discuss the requirements of the project which will include the technical specification, development cost, development time, and much more.
Will design the Web/App. Once the design phase is completed, will start development aka coding on your project, making sure it is secure & robust.
Here comes the most awaited 'D' which is the deployment of the project, that will transform your idea into a web or mobile app. Your project will work in real life.
We Build Your Business Solution With Our Resources
Hiring Developers from India is a budget-friendly choice for your business, as it doesn't cost you much, and you can get excellent work done from the offshore developers at amazing rates.
24 x 7 Support

Communication might be a problem due to different time zones, but we will provide you with 24 x 7 support.

End-to-End Development

Turn your precious ideas into valuable products with our custom end-to-end development.
Top Web & Mobile App Development Agency
iTechputer is a top web and mobile app development agency working in PHP Development, Android App Development, iOS App Development and a lot of other domains that can give your business an online identity and a chance to become a global business.
Agile Methodology

Agility in an approach ensures high productivity. And we apply the same in our development process. Fuel your business operations with agility for incremental growth.

iTechputer Values

At iTechputer, we hold up to our values in dealing with our clients, employees & end-users with the value-based products and services that we deliver.
We Consult to Get Business Plan
We are a team of technically sound experienced developers ready to tackle great challenges. We have been in the IT Business for the last 7 years. So, we have gathered enough knowledge of current IT trends. We will keep your data and identity confidential by signing a Non-Disclosure Agreement.
We Meet Deadlines

Extend your team, meet your deadlines & quickly develop projects within budget with us.

Consulting & Expertise

We easily blend into your organization to upscale & transform your business with innovation.
Our Core Services
We create your digital identity and maintain it by providing you with our wide range of services including 360° digital solutions.
We Follow Our Development Work Process
iTechputer openly welcomes passionate people and motivates them to put in the best efforts in their respective fields. Together with our team, we work towards innovation each day.
Requirement Gathering
Requirement, the first step in developing a mobile app is gathering information and we start by learning about the project, its goals, and the need for a better scope.
Project Planning & Goal
Our project managers compile the team with the required skills & experience to give you a high-end project plan to run your online business effectively.
UI/UX Design & Prototype
Our responsive UX designs ensure that your Web/App is easy to use across all devices. And we are enhancing users' overall satisfaction and increasing conversions.
Web/Application Development
Using the agile method, latest technologies & tools, developers do clean & error-free code. Tactfully we divide, develop and deliver a functional product.
Third Party API Integration
API integration is used to add new functional modules to your Web/Application. It makes them easily accessible, & easy to manage. These functional modules via CI/CD pipeline help you monitor their performance & streamline workflows.
Quality Assuarance & Deployment
iTechputer is known to deliver top-notch quality products with the best industry standards. To ensure that, each project goes through complete testing cycles to determine its quality and functions.
Support & Maintenance
After a successful launch of your product, we continue to be by your side with our 24/7, 365 days of support & maintenance. Our experts make sure that you & your users enjoy the consistent functioning of your app with high performance.
Updates & Optimizations
We safely handle all the issues related to your product in no time. We help you refine your product in terms of performance, relevance, and technology. Our timely optimizations with regular updates aid your evolving process.
Happy Clients Worldwide
What They Say About Us
When you work dedicatedly, your work speaks for you. It is the same in our case. Look what our clients are saying about us!
Dr. William Nobel (Footnob)
Working with iTechputer IT Solution is the best decision that I made. Highly skilled and knowledgeable in programming provides support when needed. I will recommend iTechputer IT Solution to anyone, I am sure you will not be disappointed. It was nice working with you, Mehul.
iTechputer IT Solution is simply amazing! They will dedicate their time to making sure you have peace of mind. These guys understand how to work efficiently and they are amazing with their time management and delivery. Excellent services! Wow, simply wow! Just pure ethical business. Excellent work!
They are the best in their work and I think they are the best available developers in India because I have gone through several guys but all were just immature and less experienced but a super quality of iTechputer IT Solution is that they are responsible guys and have a good leader of their team and they have all types of skills so no need to go anywhere or no need to work with so many developers because his team has all kind of skills. they also provide me full support on holiday also, so they care a lot about their clients.
Outstanding experience. iTechputer Team has exceptional knowledge in regards to iOS development and they get the job done quickly and promptly, usually with better results than expected. I would highly recommend them for your iOS needs and for help with any app development you need. You won't be disappointed. Hire them today!
iTechputer IT Solution is extremely fast and delivered items on time. I will recommend this company for their speed & good communication skills. Another wonderful experience & a quick job that was done well. They are eager to help and do an excellent job. Definitely recommend this seller if you need assistance with your project. Terrific Work!
iTechputer IT Solution has great programmers. Detailed and professional, knowledgeable, and patient. Excellent work! Will definitely work with you again. Highly recommended for mobile app development work.
iTechputer has amazing skilled developers. All they want to do is help you create the best application for your task. It is an absolute pleasure to work with you.
OUTSTANDING WORK! They have gone above and beyond my expectations and knew exactly what I wanted for a very difficult and complex job! Also helped with some new UI design work and did an amazing job. A++++++++++++++++
iTechputer IT Solution was great at diagnosing my issues within the Android and iOS applications. The service was fast and affordable. I recommend them to anyone for app development. Excellent work. The seller went above and beyond my expectations and delivered exactly what I wanted. Highly recommended for your app work. Quick turnaround and quality work.
iTechputer IT Solution's developers are genius and very polite. They deliver right on time and they are very professional. I highly recommend them, especially for Android and iOS App Development. They knew exactly what I wanted and did it fast and efficiently.
iTechputer IT Solution is an amazing company to work with, delivered on time according to what I want. I have used their services a number of times and they always deliver more than expected. My Android App has improved so much and they helped me in so many ways that I am very appreciative of their work. I highly recommend them for your Android needs whether it's bug solving or implementing a large project, you will be super impressed with their work.
iTechputer IT Solution delivered the project on time. so I am surprised that how someone can be so fast, so I just want to say that they are the best guys who can handle any kind of project.
iTechputer IT Solution has brilliant executives, extremely awesome professionals, and a pleasure to work with.
Very good experience, hard work, and responsible! Great work! We are so close now! Looking forward to working together to make perfect Beal!! Thank you iTechputer IT Solution.
They are is highly skilled and professional, he is proactive in approach and takes complete ownership of the assigned task, and completes it well ahead of schedule. I will definitely work with them again in future work for Android & iOS Apps.
They are very professional, they take complete ownership of the given task and drive it till completion, with no supervision required, they helped my in-house team in coaching and guiding them. Great work..!!
This is the only company (iTechputer IT Solution) that can complete the job within an hour. I really like their working style. They are very talented. Highly recommended.
iTechputer has played a pivotal role in shaping our taxi app. They provided all the guidance related to technology and how to go about it. They all are an asset to us.
Sunali Agarwal (As You Are)
iTechputer did a lot of knowledge transfer while coding for our Hybrid Mobile App which will definitely help us in the long run. Their prompt replies are an extra benefit for the company. My Experience with them was very nice and hope to work with them again on some other project in the future.
Ken Moore (Shop Cayman Islands)
By creating a parallel website to my online shopping store, I was able to expand my reach and iTechputer played a key role in all of this by creating our website and giving us tips as to how to promote it, which actually worked. I wish them all the very best.
iTechputer's team is amazing to work with. They are fast, understanding, helpful, and do exactly what I need. Can't say enough good things about them. They have gone above and beyond with my work. The team continues to have great communication, is receptive to modifications, and works quickly. I am very pleased with this phase of the project as well.
ALL INDIA MISSION OF COMPUTER & VOCATIONAL: TRAINING NGO
They did a phenomenal job on the website. Much appreciation to an amazing team. They are very responsive and had creative ideas to forward the work along. They followed the instructions provided perfectly and completed every function and page to immense quality.
Absolute and excellent efforts. They are doing so nice despite their hectic hours and schedule. They are very responsive to our bulk queries. The final delivery is excellent. We are happy with the overall outcome of this project. Thank you so much, iTechputer!
Very good and highly skilled developers. Provides the best quality service more than we expect and completes the work before the delivery date. Like a friend in communication all the time. I personally recommend this company for any app or web development. We are coming up with the next project soon.
Developers are very knowledgeable and able to help find creative solutions to the app-building process that save customers money and do not sacrifice the essence of the apps they build. I'm very happy that they are flexible and they have tuned our ideas into a workable product.
Incredible work. iTechputer and their team have continued exceeding expectations as noted by our addition of them to our preferred vendor's list. They stepped up and went above and beyond, covering for an issue with our internal team and getting our project back into the green. We look forward to working with them again and maintaining a long-term relationship.
Let's Connect & Get Free 6 Months Support
You Have A Vision. We Have A Way!
We can help you to create your dream website and application. Please send us information about your project. One of our project managers shall evaluate your project requirements and give you a formal proposal. Detailed information will help us evaluate your project accurately.
Own Your Team

Save Time & Cost

Quality & Security

Support 24/7